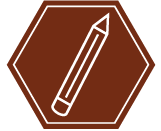 Socialico is a package of 74 social media icons, combined within a single weight font. It was designed by Jelio Dimitrov.
I've used this font in a lot of projects, I love it's simplicity! I don't typically embed it into my sites, I usually convert the icons I need into vectors as I'm going through my design process.
The Issue
This social icon set is very apparently missing and Instagram icon.
The Solution
I created one in the same style as the rest of the set and you can have it…for free!
NOTE: This icon is in .eps vector format, so it will not work with the set if you are using it as type. But, if you just need it for design purposes — I've gotcha!