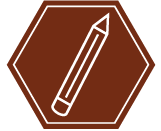 Whenever I get stuck with a CS4 issue, I do what any smart, tech-savvy, genius-type person would do…I Google. If you're trying to find the answer to this issue: "Illustrator CS4 Selection Tool Won't Scale", you're going to get a lot of results…but if you're having the problem I was having, all of those results will be WRONG.
Feedback indicates this fix also works for newer version of Illustrator (CS5, CS5.5 and CS6).
Issue:
When you are using the Selection Tool in Illustrator CS4, you cannot scale objects. You can move them but you cannot re-size or rotate them.
Recommended Solution:
View >> Show Bounding Box
Still not working? My problem too.
Actual Solution:
Save your AI projects and close the program. Re-launch the program and immediately hold "SHIFT + CTRL + ALT", continue holding until AI opens. This will reset your AI preferences…PROBLEM SOLVED!